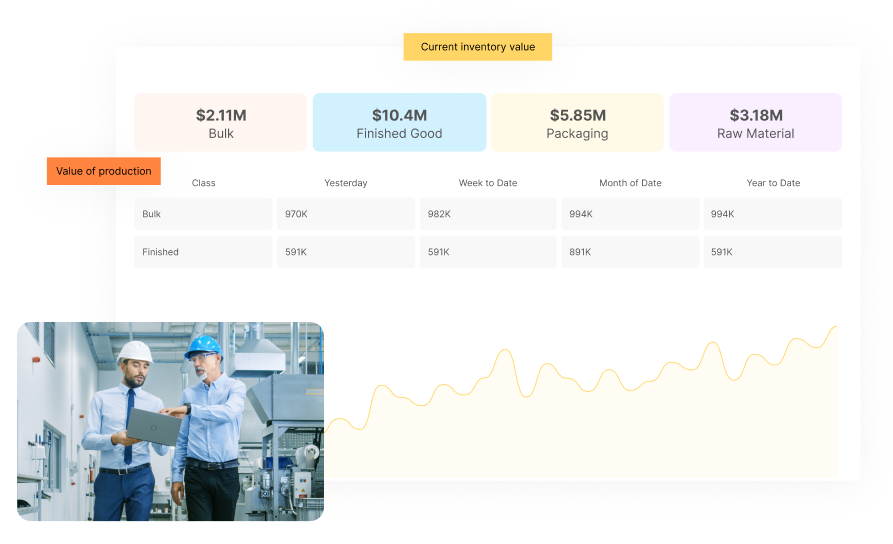 Equipment, processes, and teams managed effortlessly
Managing production is all about seamless coordination – you're always trying to find great equipment and software to enable smooth operations and the proper management of teams. Industry standards evolve at a fast pace, so it's hard to keep up. The thing is, having the best tools at hand is the only way to manage employees efficiently.
You want software that relieves your daily pain points and matches the high standard of professionalism you expect in equipment, processes, and team members. We've got just the thing for you.
The Mar-Kov Solution
We help you keep track of goods from raw materials to shipped finished goods. Mar-Kov lets you barcode your inventory so that you know what you have in stock, what is committed to orders and what is work in progress. can track its movements, usage, location, and the amount left in each container at any time. Mar-Kov users know what they have in stock, where it is, what they need, and when they need it.
The system will alert you about shortages and plan production through automatically generated MRP alerts. You can track shipments and lead times and automatically update Shipping and Receiving about all new orders. You will know exactly which orders and customers are impacted by lead time delays: you can react to any changes quickly, efficiently, and intelligently.
Get accurate real-time inventory visibility and quality control status
Maintain vendor and customer price lists.
Calculate cost per margin based on rising raw material prices
Prompt and polices operators through the pre-weigh, commingle, and batching operations to automatically update inventory.
Connect to scales and PLCs (Programmable Logic Controllers) of operational equipment to make sure every batch is up to par
Have accurate real-time inventory visibility and quality control status
Easily supervise each step of the batching operation to ensure that all steps are performed as defined in the process specification
Eliminate manual data entry errors by collecting data at the source
Have complete lot traceability with container level tracking of source materials
Automatically update your accounting platform as inventory comes in and out of your facility.